Novel Coronavirus Update
Updated: November 6, 2020
Based on the Governor of the State of Maine's request, all visitors are required to wear a mask when visiting Quirk Auto Group sales, service, and parts departments.
We much appreciate our customers' patience and patronage through this time.
Updated: May 1st, 2020, 8:00am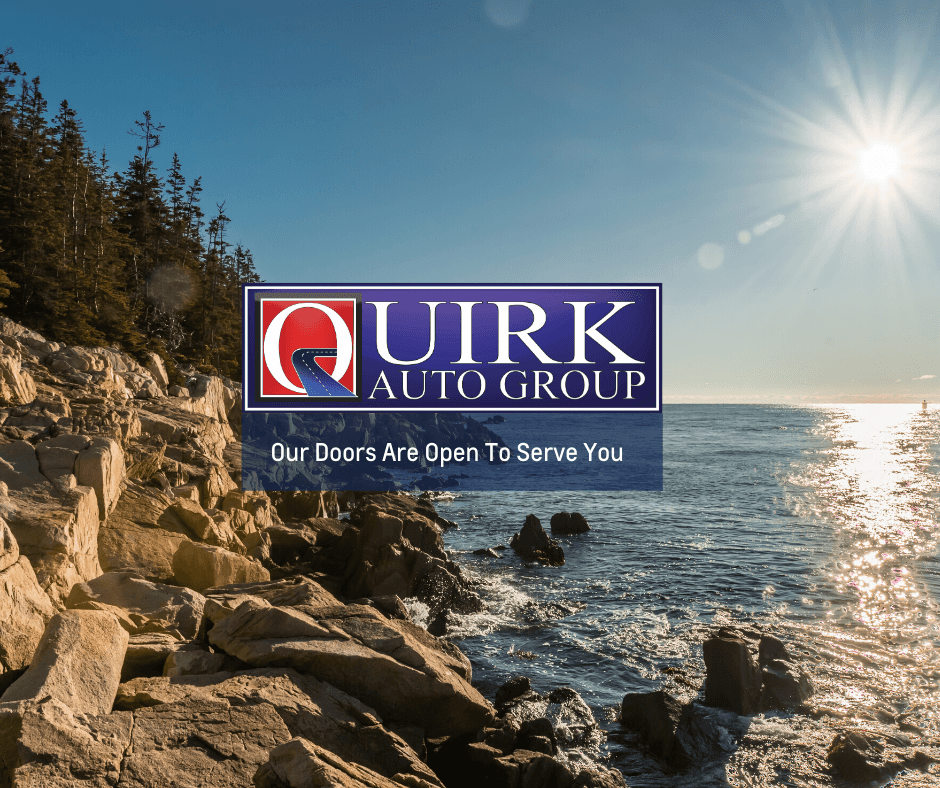 May 1st marks the first phase of businesses re-opening here in Maine. Like you, we're excited about the prospects of moving toward normalcy in our lives.
Quirk Auto Group continues to employ all of its 400 plus employees statewide, and our 40-year commitment to our employees, customers, and the communities we serve has never been stronger.
Our service departments continue to provide essential service and maintenance for our customers with proper safety practices at our locations statewide.
Right now is a great time to buy a new or used vehicle. Take advantage of 0% APR financing, with many up to 84 months financing available and deferred payments for as long as 6 months. Check back in the next 5-7 business days for even more great offers.
We've improved our websites and social media channels by offering live chat support and lease payment and financing calculation tools so you can shop for your next car, truck, or SUV from the comfort and safety of home twenty-four hours a day, seven days a week.
Feel free to make an appointment for your very own self-directed test drive in a properly sanitized vehicle. You can even complete the financing process from home and have the vehicle delivered right to your front door.
Feel free to review the State of Maine's Covid-19 Response to Restarting Maine's Economy at quirkauto.com/covid19. You can rest assured that Quirk Auto Group is abiding by these measures to ensure the safety and health of anyone working at or visiting our dealerships statewide.
From all of us at Quirk Auto Group, We're Here When You Need Us.
---
Related: Service Your Vehicle Without Contact
The United States Government has indicated automotive dealerships as essential business and we take that responsibility very seriously.
We understand the importance of owning and maintaining your vehicle whether it's needed for your job, your business or the safety of your children, family, friends and neighbors.
Therefore, we will continue to operate with slightly modified business hours Monday through Saturday until otherwise instructed by State or Federal health officials.
Our top priority is the health and well-being of our employees and customers. As we all cope with the fluid nature of the current health crisis situation, we have amplified our commitment to clean and sanitize our facilities. We have put into place additional processes to help ensure the safety and welfare of our staff and our customers.
Quirk Auto Group and its employees thank our customers for your continued patronage. We continue to be committed to the well-being of the entirety of the communities we serve throughout the state of Maine, and we share your concerns regarding this very contagious Novel Coronavirus and its effect on our customers, families, friends and co-workers.
If you have any questions regarding the policies we've set in place, please don't hesitate to call us at 207.299.1601 or email us at info@quirkauto.com.